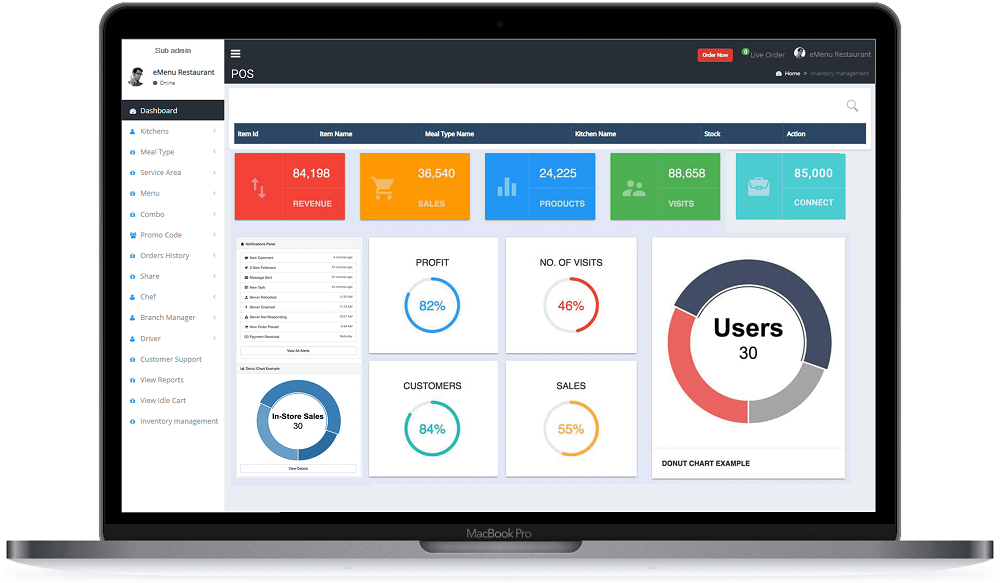 Online POS System in Lahore
With the dawn of artificial intelligence, the internet of things, delivery robots and drone technology, the restaurant industry is embracing new opportunities and challenges to automate everyday tasks. Software, machines and robots are making their way into restaurants to make business operation easier. Meanwhile, Online Point of Sale Systems have also moved beyond processing transactions and evolved as the 'brain' of restaurant management systems. These systems have automated the routine tasks, such as inventory, sales, order processing and more, once performed by restaurant staff.
How POS Systems are Impacting Businesses?
In ancient times, card-readers and cash registers were used to record and track cash flow. However, with the advent of Online Point of Sale Software, the traditional methods fade away. The addition of cloud technology in POS systems has increased its importance because restaurant administration has no more fear of data loss in these new systems. All the data in the cloud is stored on the remote server and can be accessed anytime, anywhere even if something happens to the hard drive of the local PC or computer.
Best Online POS Systems allow the restaurateurs to monitor the sales and purchases in real-time, process orders, build a customer directory, search the required items in the menu, track the best-selling items and manage inventory and stock. Mobiles, iPads and tablets are integrated with Point Of Sale Software Online that has reduced the physical clutter. Waitstaff can take the orders on these devices and it automatically shows up to the kitchen display system so chefs can timely ensure the delivery of orders. Restaurant administration can use these breakthrough POS technologies to develop their business on modern lines.
Mobile POS: A global shift from cash to a cashless transaction has also influenced the restaurant industry. Therefore, restaurants must have multiple mobile payment options for the convenience of customers. According to an estimate, almost 75% of transactions till 2025 will be cashless payments. Customers can easily pay from their smartphones and it is automatically added to restaurant sales.
POS &CRM: Old POS systems provide basic information about customer behavior but Online Restaurant POS Software integration with CRM solutions helps the restaurants to boost sales and profits. The administration can analyze which customers are loyal to the establishment and are generating most of the revenue. They can maintain client records such as names, addresses, emails, and loyalty program membership, etc. and can promote their special food item through email marketing and SMS marketing.
Benefits of Online Restaurant POS
In the 21st-century Online Restaurant POS Software is more than a sales portal. It is a very widespread payment processing system that offers countless benefits to a restaurant business.
The Online Restaurant POS System has automated the transaction process and makes it faster and easier for both restaurants and customers.
The Latest Online Restaurant POS system gives detailed insights into daily sales while restaurant administration can track the status of inventory and sales in real-time.
Many POS System Online Shop facilities also accept credit card payments.
If the POS system will be integrated with other software such as accounting, it will help the administration to better understand the cash flow.
Ultimately, the latest technological innovations are transforming the way of running a restaurant, therefore; restaurants are shifting to automation and Online POS systems in Lahore to ease their routine tasks. Cherry berry RMS is ideal for those restaurants that are seeking to develop foodie business on modern lines.