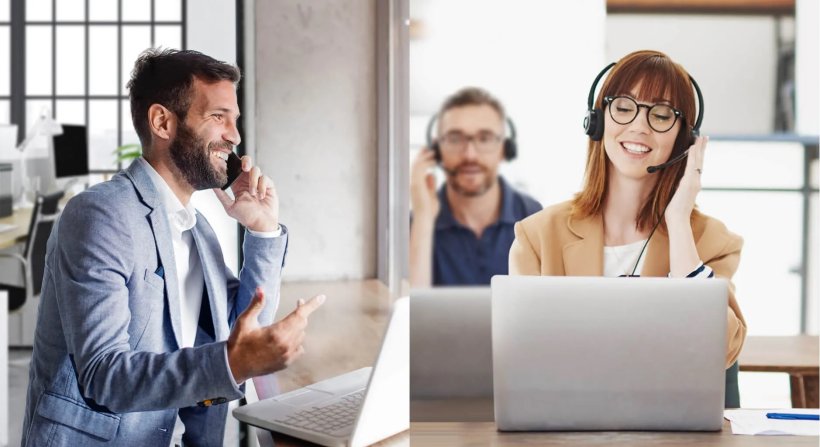 Benefits of Call Center Management System for Restaurant
How A Call Center Management System for Restaurant Shaping the Future?
The restaurant industry has become more competitive than before due to the growing demand for food ordering apps and limitless dining options. That is why restaurants need to adopt the latest technology to attract new customers and keep existing ones happy. It is challenging for restaurants to manage reservations, feedback and customer inquiries during peak hours. Meanwhile, inefficient handling can lead to lower customer satisfaction levels, they might end up booking in another restaurant or your restaurant might miss a sales opportunity. One crucial aspect of achieving this feat is offering exceptional customer service experience with the help of a Call Center Management System for Restaurant. Cloud-based call center software automatically routes the calls to available team members to avoid missing any incoming calls. Let's explore more about the importance and benefits of this technology for the restaurant industry. 
How Restaurant Call Center Technology Enhances Performance? 
We live in the digital era where customers expect personalised services, timely interaction and smooth processes. Now digital ordering has become a norm that will grow faster in the future. Restaurants are dealing with labour shortages but orders are growing in this digital age so fulfilling the customer demands with this staff is not possible. Just imagine the situation during peak hours of your restaurants when your whole staff is busy managing guests and cannot manage the incoming customers' calls for ordering or reservations. Busy phone lines or no answering will compel your customer on the phone to look for another option. For this reason, restaurants are integrating technologies into the business to provide the best customer service experience. Investing in call center software is a worthy investment, its benefits will outweigh the investment cost in the long run. 
Why A Call Center System is Important For Restaurants?
Guest satisfaction plays a crucial role in turning your restaurant into a successful business. The time when a customer enters your restaurant, your staff should ensure to give in-person attention to leave a good impression on them. A call center system is a technology that enables restaurants to manage and streamline their telephonic customer interactions effectively. The process involves a dedicated team of call center agents that manages reservations, orders and inquiries of customers to improve restaurant operations. The system allows you to turn more calls into confirm orders, project a professional image of your restaurant and reduce the overall expenses needed to hire or train extra staff. In this way, your in-house staff can productively focus on important tasks without being distracted by constantly ringing phones. Moreover, restaurant agents can track the social media accounts of their customers to answer their negative feedback to create a positive image. 
Top Reasons to Adopt Call Center Management System
1. Enhance Customer Service Experience
A call center system allows restaurants to efficiently manage their customers' inquiries, orders and reservations to increase their satisfaction level. Moreover, providing a dedicated platform for customers to reach your restaurants also enhances responsiveness and communication.
2. Improves Efficiency
This system streamlines the ordering process, improves table turnover and reduces wait times. It allows your staff to focus on providing the best services to in-house diners and leave phone orders on call center agents. This brings improvement in the quality of services. 
4. Increases Order Accuracy
The manual method of taking orders is prone to errors that can compel customers to make complaints about the service or demand refunds. The Call Center Management System for Restaurant ensures the accurate recording of customer requests and preferences.
5. Easy Payment Processing
Best call center software offers secure processing of payments for customers. The facility of a desired and secure mode of payment leads to a smooth and unified payment experience. 
6. Enhance Operational Efficiency
The customers' calls at peak hours add frustration in an already stressful work environment and detract staff attention which affects the quality of services. The convenience of call center services allows staff to stay focused on their routine jobs without taking stress from incoming customer calls.
7. Cost Effective Solution
By outsourcing your call center operations, you neither need to worry about hiring new staff to manage calls nor have to invest in training. It saves both time and money. 
8. Data Insight & Analysis
Restaurants can access their customer's trends and preferences by accessing call and ordering history. They can formulate their marketing strategies by keeping in view these preferences or can improve the quality of services.
Integration of Call Center with Other Software
The integration of a call center system with other software enhances efficiency, streamlines operations and offers a seamless customer service experience. For instance, its integration with the POS systems ensures real-time order processing and payment handling. Likewise, the integration of customer relationship software with call center systems enables agents to access customer preferences and profiles to ensure personalised service. The calling system integration with the reservation and table management system prevents overbooking while inventory software offers better control over food costs and stock availability. The incorporation of a kitchen display system with a call center system ensures that your kitchen staff receive timely and accurate orders to streamline kitchen operations. Integration with accounting and finance software simplifies financial processes while call center agents can manage online customer engagements and marketing campaigns effectively. Additionally, its link with communication tools like messaging and email improves coordination and internal communication.
Final Words
In recent years, the restaurant industry has considerably evolved with growing customers' expectations. Restaurants are facing the challenge of offering exceptional food and top-notch customer service experience. This necessity has made a Call Center Management System for Restaurants by Cherry Berry RMS an essential tool for the restaurant industry. This technology streamlines operations and improves the overall efficiency of your restaurant business. Moreover, restaurants can optimise their routine operations and enhance customer service experience by integrating call center systems with other software tools. Restaurant administration can track call volume, customer feedback and response times to bring more improvements and ensure refined processes. Call center agents can convince customers to increase their order size by offering them special discount offers to enhance sales.