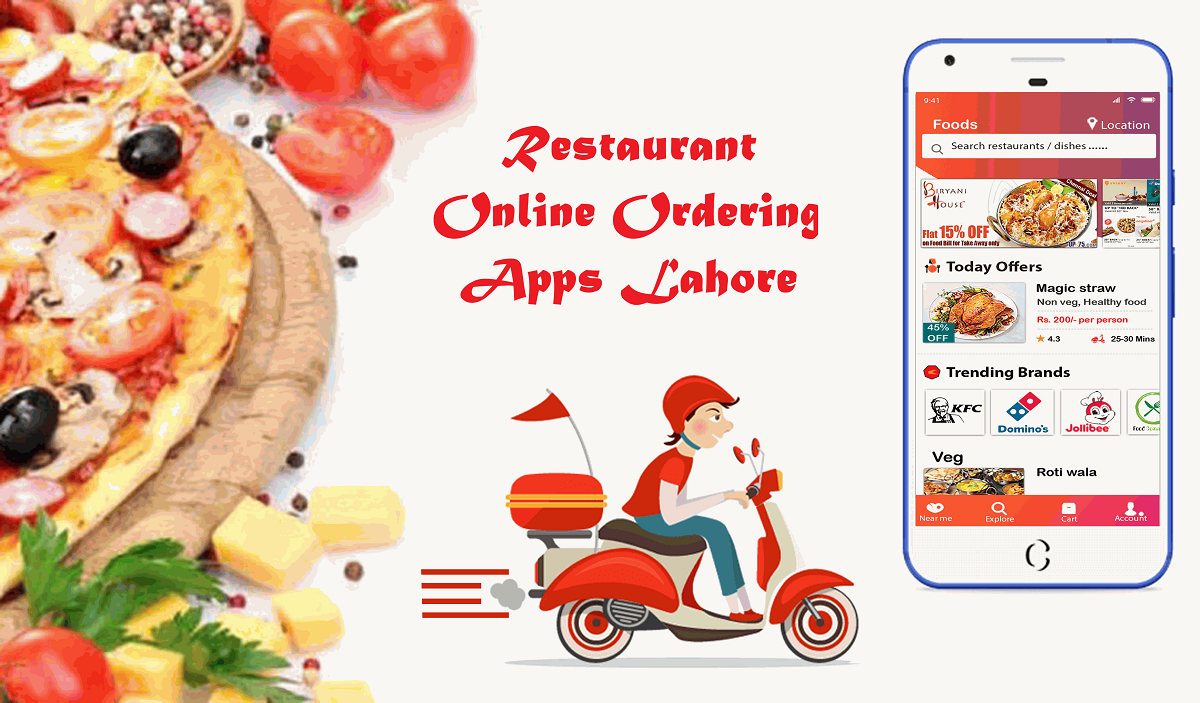 Restaurant Online Ordering Apps Lahore
Lahore is a food hub of Pakistan and its food street is a heaven for food lovers where both modern and traditional food items are available. Food Delivery App in Lahore helps and satisfies foodies that keep gazing at their food ordering apps to get updated about newly introduced food items in their favorite eateries.
Importance of Restaurant Online Ordering Application
Today's tech-savvy generation is already in the habit of ordering digitally through a restaurant website or Online Food Application. To make time-sensitive customers happy and enhance their Restaurant Online Ordering System, many restaurants have added digital wallets to their platforms to stay ahead of the market trends. In short, Online Ordering Apps have become a norm and food delivery businesses have opted to invest in Online Ordering applications to improve the order-taking and delivering mechanism. Here are some benefits of Online Ordering for Restaurants.
Workaholics can miss out on their meal but can't afford to miss any deadline but with online ordering apps, they can order their favorite food from the nearest restaurants and they don't need to starve anymore during their workload.
Whenever guests arrive in a home, ladies start preparing delicious meals for them in the scorching heat of the kitchen. However, ladies can enjoy the company of guests using online food delivery apps.
Online delivery option is also available for remote food lovers and they can see the menu online and select the food of their choice to place an order.
Many restaurants also provide discount offers to their customers if orders are placed using online ordering apps.
You can pre-book your desired table through the Restaurant Ordering Application and also cancel the reservation. If you don't get a reservation in your desired restaurant, the administration will let you know timely so you can make a reservation in another restaurant.
Online ordering has become a trend now so a digital presence is necessary for restaurants to increase their revenue.
Must-Have Features in Restaurant Online Ordering Apps
Some essential features should be included in an online food ordering app.
Push Notifications: To stand out prominently among competitors and stay connected with their customers, restaurants can send push notifications to let the customers know about special deals, discount offers, loyalty programs, and location-based services. This way, restaurateurs can grab their customer's attention and engage them.
GPS Tracking: By this must-have feature of food delivery apps, customers can track the real-time location of their food order. This two-way tracking also helps the restaurants to recognize a customer's location to deliver food. Customers can also track the status and performance of the delivery personnel. Google Maps and Waze's Navigation are some important APIs for this feature.
Multiple Payment Options: If customers will face any minor problem in placing the order, they will never use the food ordering app again so there will be multiple payment options available in the Food Delivery App in Lahore.
Discounts & Cashback Offers: By offering discounts and special deals, restaurants can earn their sales and customers. According to a survey many customers use online food ordering apps to get discounts and cashback. Many successful enterprises pay more attention to loyalty programs other than creating brand recognition.
Social Media Integration: Social Media is a great marketing tool. It allows customers to share photos and videos of their favorite food items with their friends and family. A prominent food app in social media will attract more customers.
Finally, whether you are a restaurateur hoping to expand your business or you are an entrepreneur investing in a restaurant business, Restaurant Online Ordering Apps Lahore should be a must-have part of your Restaurant Management System to improve sales and boost profit.