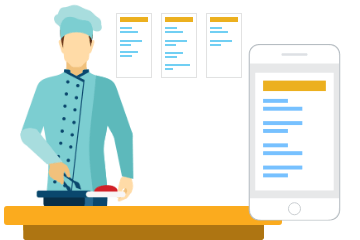 Must Have Features Of A Restaurant POS System Software
What is Restaurant POS System Software?
Restaurant POS system software is an all-embracing digital solution designed particularly to bring efficiency and modernity to your restaurant's operations. Point Of Sale refers to the combination of hardware and software equipment to facilitate the essential functions of a restaurant. Using POS software that can handle ordering process, payment, and inventory management helps to optimize operations and deliver exceptional service. The restaurant POS system has become a crucial component of modern restaurant establishments, empowering them to stay competitive in the marketplace. 
Features of Restaurant POS System Software
POS software integrates advanced technology along with some user-convenient features. Such a POS system helps to streamline your restaurant's management processes such as ordering, billing, and inventory. An efficient restaurant POS system software has these important features:
Order Management

: A POS system enables you to streamline order processing including placement of online orders, delivery, tracking orders and payment. 

Table Booking

: A POS system helps your customers conveniently visualize table availability and track vacancies. It helps the management to optimize the seating arrangements for smooth customer flow.

Menu Customization

: POS systems allow you to customize, edit, update, and set pricings.

Inventory Management

: Integrating POS systems helps to manage inventory such as track ingredient usage, monitor stock levels, orders history. They also generate alerts for low inventory and thus ensure timely replenishment.

Payment Processing

: Using a POS system is particularly beneficial for customers as it allows them to pay via different ways such as cash, credit/debit cards, mobile wallets.
Benefits of Using A POS System
Using a POS system for restaurants has proven benefits in terms of accuracy and robustness. By letting POS handle most of the duties, the management can work on other functions such as improving marketing and introducing business to the international market. Soma major benefits offered by restaurant POS system software are:
Flexibility & Adaptability
Integrating a cloud-based POS system offers access to data at any time from anywhere all with the help of a device with internet connection. POS systems can evolve with the customer demands and market trends.
POS automates most of the manual functions and thereby reduces labor cost. Automatic systems have reduced the chances of errors and prevent financial losses. With efficient inventory management, budget can be optimized, and wastage can be prevented. And with enhanced efficiency, more customers can be dealt with in less time. 
POS systems let you into valuable insights and provide business reports which help to bring improvements and optimize operations. 
Integrating a POS system makes it convenient for customers to place orders, pay according to their convenience and provide extended customer services. The POS system provides reports which can be used to provide personalized services to customers.
Using a POS system streamline operations, reduce manual tasks, optimize inventory, deliver better service, and thus enjoy enhanced efficiency. 
Where Can You Find A Restaurant POS Software?
Revolutionize your dining establishment using our restaurant POS system software. We at Cherry Berry RMS, offer you a cloud-based POS system that allows you to manage and run your business from anywhere only with an internet connection. Unlike traditional POS systems, ours is not hardware-dependent and offers you flexibility. At Cherry Berry you will find a comprehensive suite of cloud-based POS solutions customized to your needs.